Posted by Performance Golf Carts on Sep 2nd 2021
Are you looking for a way to improve the look of your 1994 or newer EZGO TXT golf cart? If so, we have you covered with the MadJax Storm body kit for 1994 and newer EZGO TXT golf carts!
Get A "NEW" Golf Cart Without Buying A New Golf Cart!
We've all been there, looking at the newest and latest golf carts on the market. We see the updated body styles, aggressive looks, and all the updated features. Meanwhile, we look in our garage and see our old trusty EZGO TXT. Maybe you have added LED headlights, a lift kit, custom wheels & tires, or other accessories, but it still looks like every other TXT on the road or golf course. If your EZGO TXT is in excellent mechanical condition and runs great, but you REALLY want to make it stand out, the MadJax Storm Body Kit is what you need! It's like getting a new golf cart without buying a new golf cart!
What's Included With The MadJax Storm Body Kit?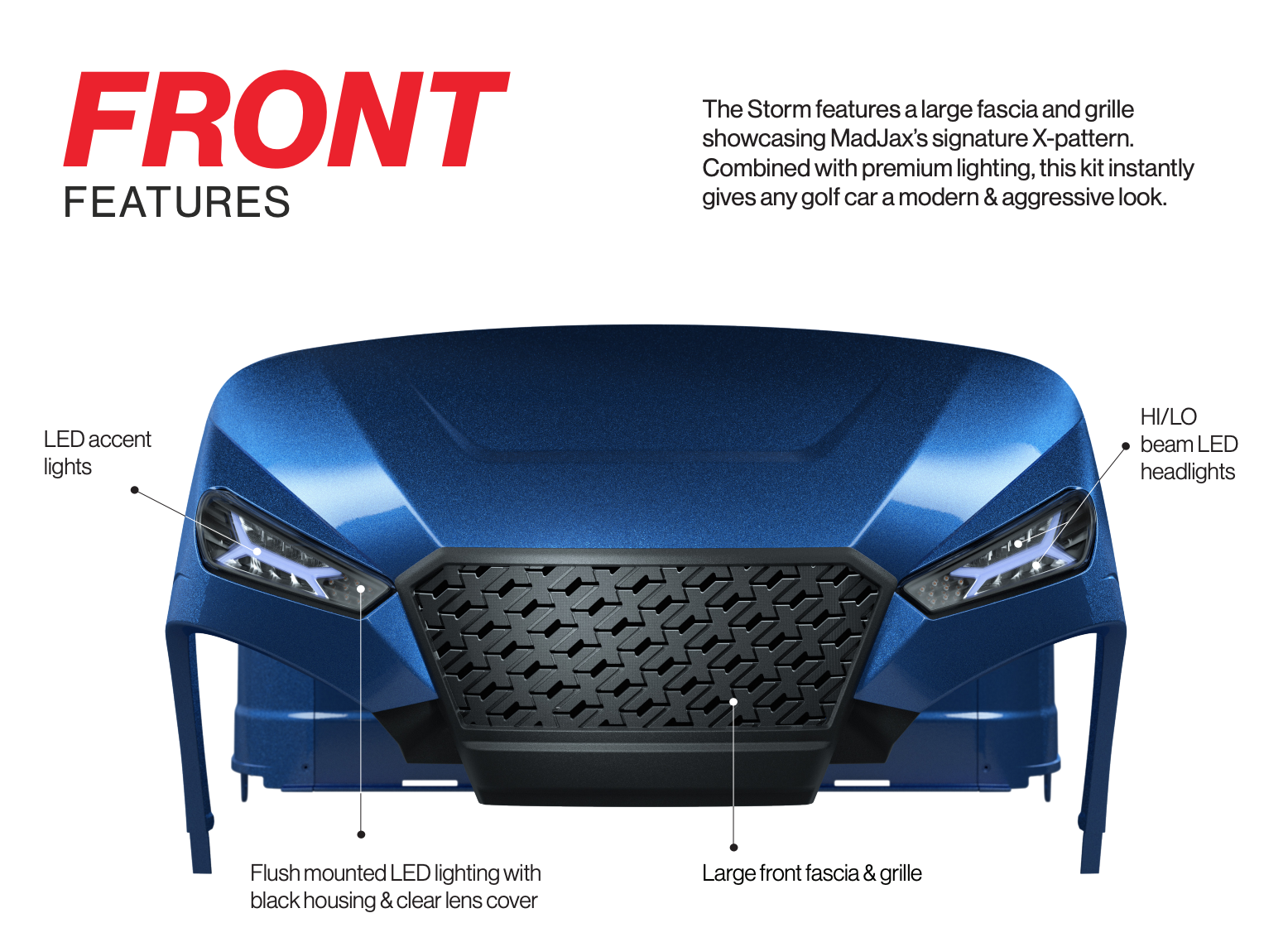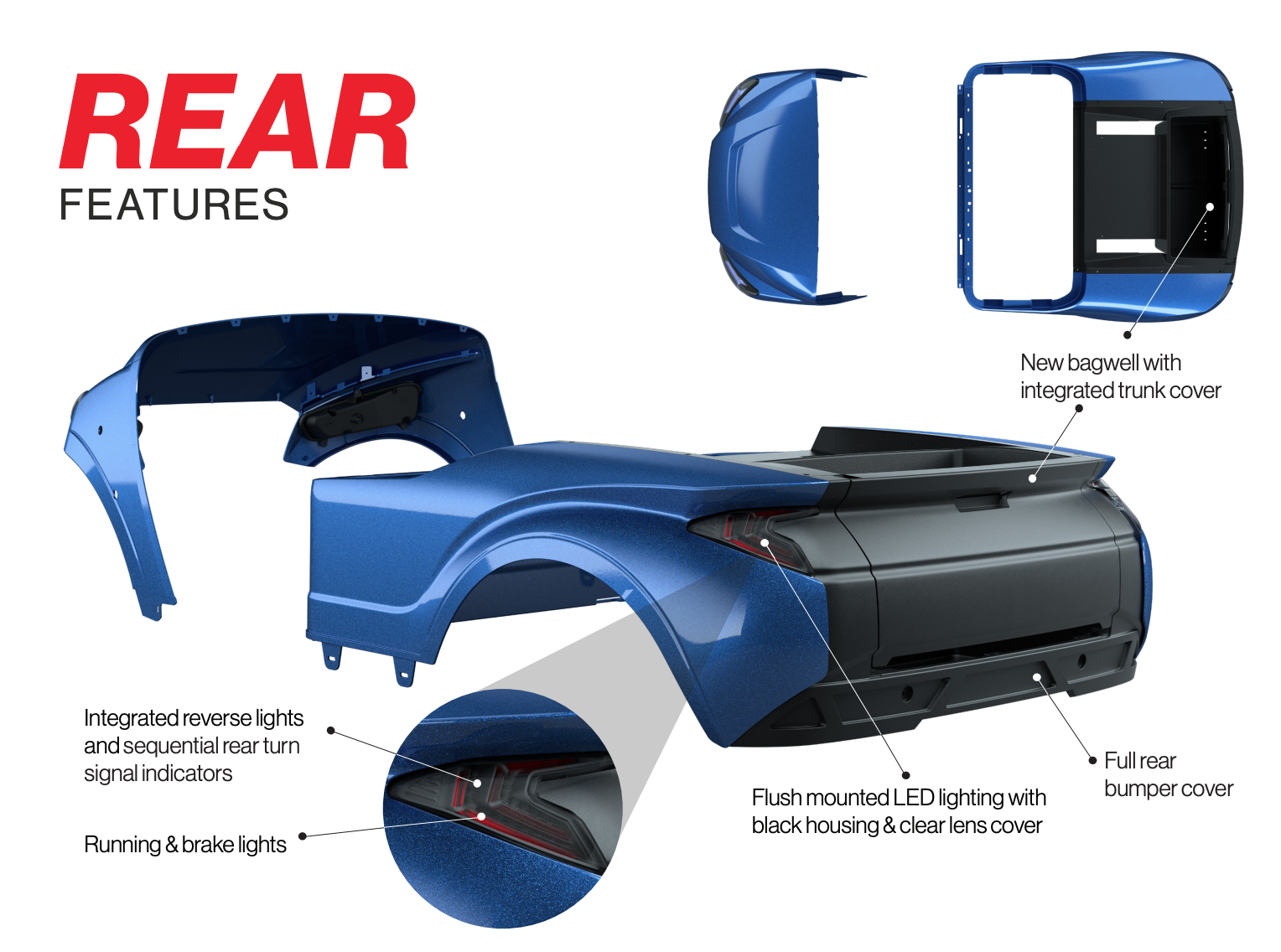 The new Storm body kit from MadJax comes with everything you need to make your golf cart stand out from the pack!
-STORM Front Cowl with Black Grille
-STORM Rear Body piece w/ Bagwell close-out panel
-Full LED Ultimate Plus Street Legal Light Kit with reverse lights
-Two-step paint (automotive style) and mold-in (basic) paint options
- 9 colors to choose from
- Easy Installation! Just remove your old body and replace
Can I Install The Storm Body Kit Myself?
The modular multi-piece design makes installation and repair in the future easier. The kit includes everything you need for installation. However, the body kit and complete light kit make for a big project! If you would rather leave this job to a professional and are located in Central Florida, give us a call at Performance Golf Carts! We can pick up your EZGO TXT, install the new Storm body kit, and deliver your newly customized golf cart back to your doorstep!
Can I Purchase A Golf Cart With The Storm Body Kit Installed?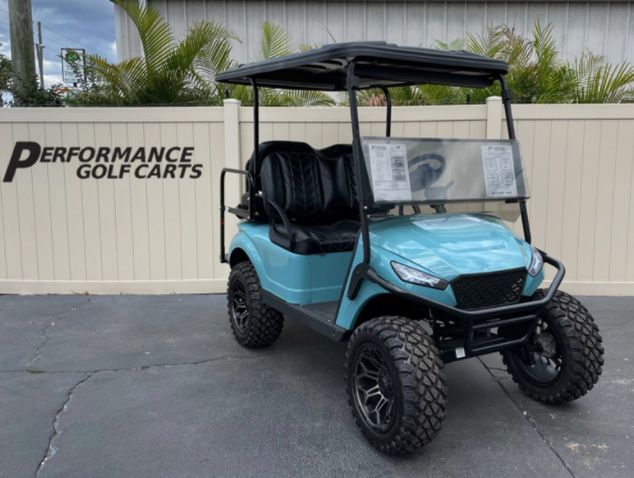 When you purchase from Performance Golf Carts, there are a few options for getting the Storm body kit. As we mentioned above, if you already own a 1994 or newer EZGO TXT, you can purchase the body kit from us and have our expert golf cart technicians install it at our facility. The other option is to buy a golf cart that we have already installed the MadJax Storm body kit on! We love the aggressive, futuristic, automotive-inspired look of the Storm body kit. That is why we typically have refurbished golf carts with this body installed, ready to go.
If you are shopping from outside our local area, no problem! At Performance Golf Carts, we offer FREE SHIPPING on all of our new and used golf carts to anywhere in the continental United States. We have been successfully shipping golf carts to the lower 48 states since 2017!
Let's Wrap This Up
There is no question that the MadJax Storm body kit will set you apart from all the other EZGO TXT's out there! Whether you are replacing the body on your current TXT or purchasing a refurbished TXT with the Storm body installed, you should prepare yourself now...the compliments and head-turning are about to begin!
You can see all of our EZGO TXT golf carts with the Storm Body HERE