Posted by Performance Golf Carts on Oct 5th 2021
A simple, inexpensive, and functional upgrade you can make to any Club Car, EZGO, or Yamaha golf cart is a quality headlight kit! As golf carts continue to grow in popularity as a primary mode of transportation, you may find yourself driving your golf cart in inclement weather, in the dark, or on the road with automotive traffic. One of the best ways to help ensure the safety of you and your passengers is by adding a headlight kit to your golf cart or upgrading your current headlight kit!
Street Legal LED Golf Cart Headlight Kit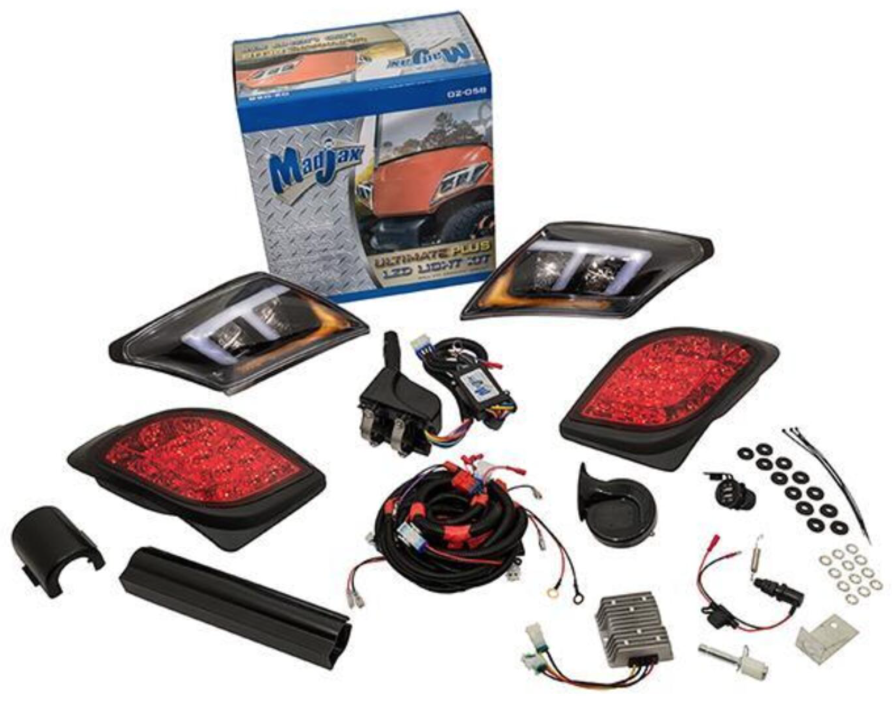 The most popular headlight kit for golf carts driving on the road is the street-legal headlight kit. These headlight kits are often called Ultimate Plus headlight kits or Deluxe Street Legal headlight kits (depending on the brand or manufacturer). These street legal headlight kits will come with LED headlights, LED brake lights, turn signals, and necessary mounting hardware and brake pedal switch to make everything function properly. If you plan to operate your golf cart on a public street, this type of complete headlight kit is an absolute must-have on your golf cart!
Full LED Golf Cart Headlight Kit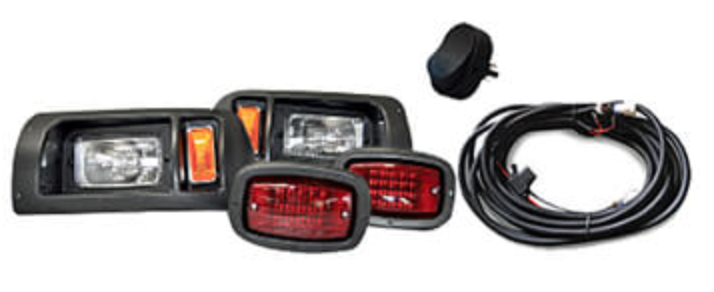 Another excellent option for golf cart headlight kits is the Full LED headlight kit. This type of headlight kit is a basic headlight/tail light/brake light kit. Like the Ultimate or Deluxe headlight kits, these kits need to be ordered for your specific make and model for an easy plug-and-play installation. The Full LED headlight kit will not have the horn or turn signal function but work excellent to add an extra element of safety when driving your golf cart!
Universal Golf Cart Headlights
The Universal golf cart headlight kit is the least expensive and most straightforward solution to adding headlights to your golf cart. This kit will not include taillights or brake lights and is not make and model specific. These headlights will be halogen-style bulbs, drawing more amperage than the LED headlight kits listed above. The universal golf cart halogen headlights are also not as bright as the LED headlights. This option is the most inexpensive but also the least aesthetically pleasing and least efficient.
Read The Details
When ordering or purchasing your golf cart headlight kit, it is EXTREMELY important to read the description and details of what the kit includes. As you can see by the names of the headlight kits listed above, it can get confusing as to what is included with each kit. Also, each headlight kit (except a universal kit) will be golf cart make and model specific. Ordering the correct kit will make the installation much more manageable!
If you have any questions regarding headlight kits for your golf cart or any other golf cart accessories, please reach out to us! Our team of friendly and knowledgeable golf cart experts are always here to help you and make sure you ride happy!