Posted by Performance Golf Carts on Jun 2nd 2021
Now that you have purchased your new or new-to-you golf cart, it's time to look for some cool golf cart accessories! It's always fun to add a personal touch to your golf cart and in this article, we will give you out top 9 cool golf cart accessories for any golf cart!
Steering Wheel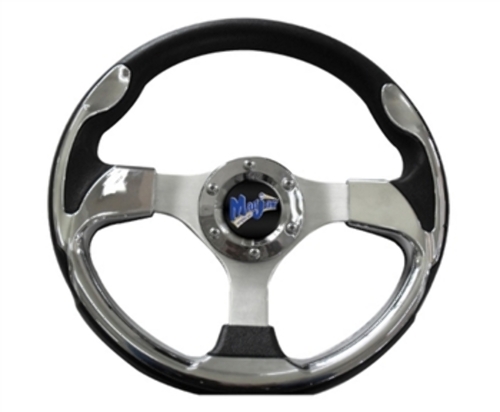 Replacing the standard golf cart steering wheel is easy and it will add a great custom look to your golf cart! With a wide variety of styles and colors, replacing the steering wheel is one of the best ways to customize your golf cart. While this job is not difficult, each manufacturer (Yamaha, Club Car, EZGO, etc.) uses their own style steering wheel. Be sure to order the correct hub adapter for your model golf cart with your steering wheel and installing it will be a breeze!
Custom Dash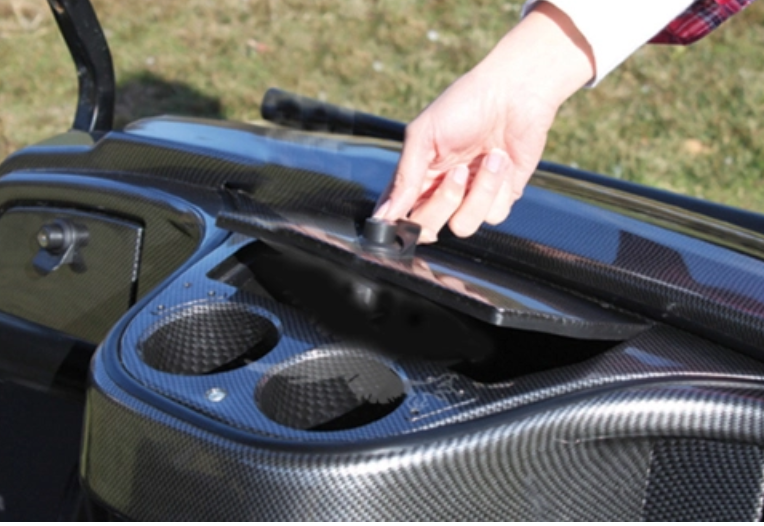 Adding a custom dash kit is a great way to add a new look to your golf cart! Most dash kits will have locking glove boxes, cup holders, and can be ordered with pre-cutout slots for other accessories such as a radio or charge meter. Generally, the new dash will install directly over the top of your existing dash. This makes installing this cool golf cart accessory a breeze!
Floor Mat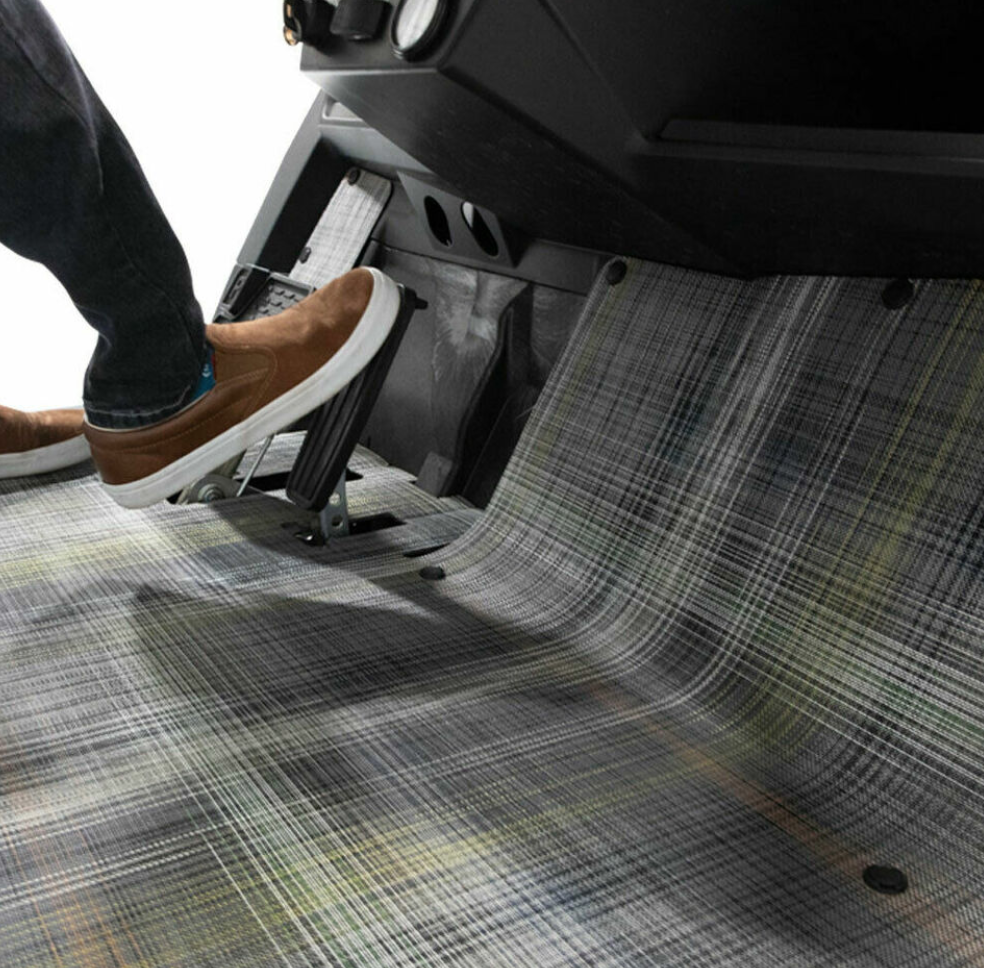 Adding a floor mat is probably the most overlooked way to accessorize your golf cart. Gone are the days of the plain black floor mat that most people are used to seeing used in golf carts. Today's floor mats are made to add function and style to your golf cart. With a huge variety of colors and styles, golf cart floor mats are definitely an under appreciated cool golf cart accessory!
LED Headlight Kit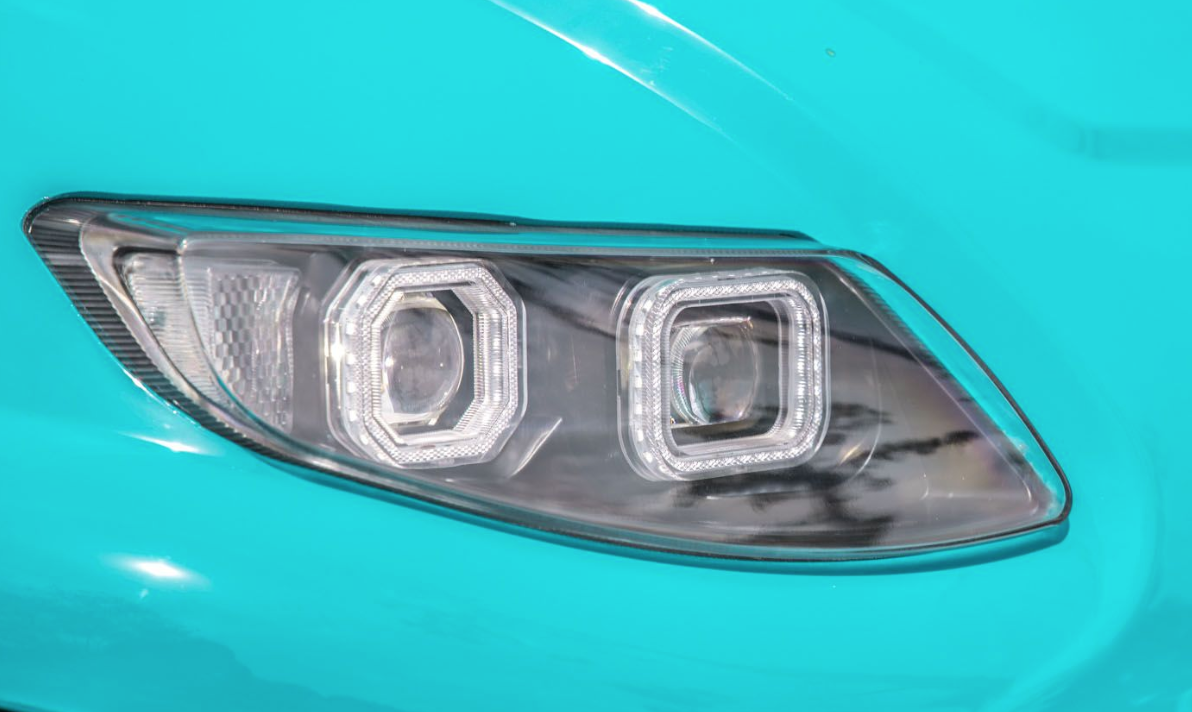 LED headlights are guaranteed to add a fantastic look to the front of your golf cart. LED headlights are incredibly bright, adding not only good looks, but a huge increase in safety to your golf cart. Many kits will come with LED tail lights and turn signals as well. These kits can be installed yourself, but this depends on your comfort level with electrical components and cutting the holes for the lights. Having a golf cart professional install your headlight kit will eliminate the risk of damaging the lights from improper wiring or cutting the wrong size hole for the headlights.
Custom Wheels & Tires
No accessory will make your golf cart stand out like a set of custom wheels and tires! With a seemingly endless amount of different styles, a new set of custom golf cart wheels and tires is an easy way to put your personal touch on your golf cart! Many wheels and tires can be bought as a kit, meaning the tires are already mounted on the wheels and inflated. This means you can simply bolt them on and go!
Seat Covers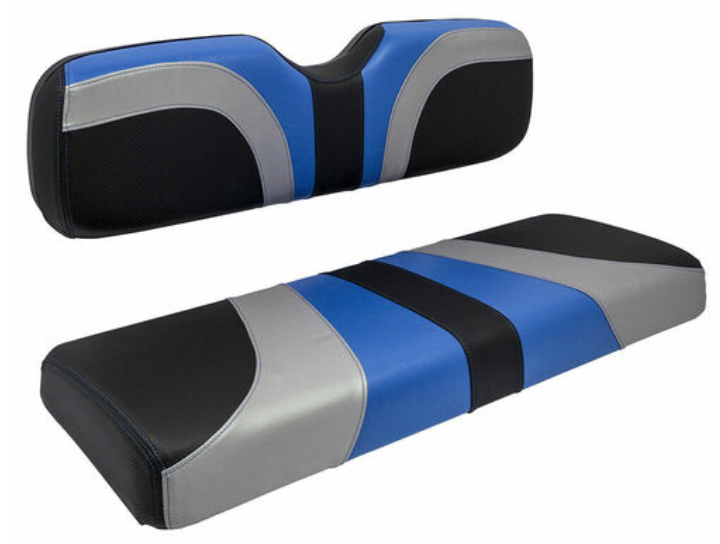 Tired of the plain looking seats on your golf cart? If so, this cool golf cart accessory is for you! Custom seat covers are an easy way to add color and style to your golf cart. High quality seat covers are made from marine grade vinyl and stand up to the harshest of conditions. Many seat covers are designed to fit directly over the top of your existing seats. This makes installation simple and hassle free! If the padding in your existing seat is worn out, many of the seat covers can be purchased as a seat assembly!
Rear Seat Kit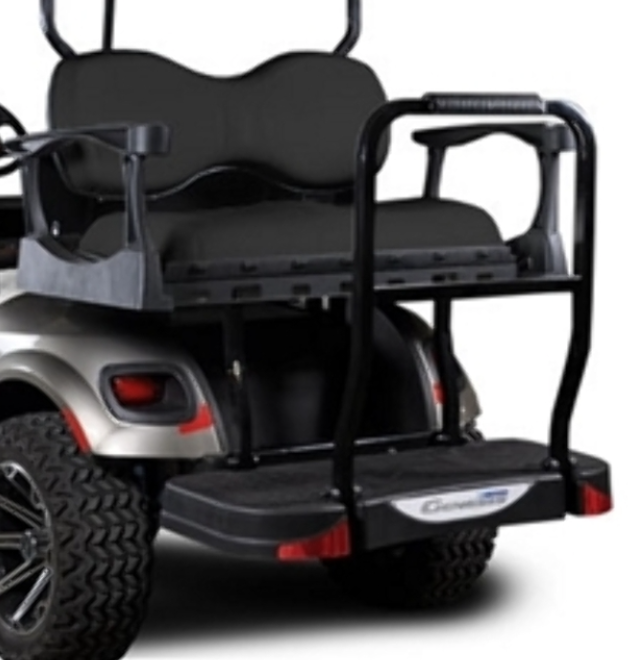 When you need to carry more passengers on your golf cart, you definitely need this next accessory! A quality rear seat kit will add more passenger seating and most seat bottoms fold out to convert your cart in to a flatbed utility cart! Be aware that rear seat kits are one of the most incorrectly ordered accessories for golf carts! Many manufacturers change model designs mid-year, so verify your year and model through the serial number before ordering. If you are not sure where to find that information, feel free to reach out to one of our knowledgeable team members at Performance Golf Carts and we can assist you on where to find the serial number information.
Bluetooth Sound Bar

With many people listening to music on their phones, a bluetooth sound bar is definitely a cool golf cart accessory! A bluetooth sound bar for your golf cart is simple to install and can provide amazing sound as well. Not everyone needs a radio and speakers installed, if you primarily listen to music on your phone, the bluetooth sound bar is a must for taking those tunes along on your ride!
Fender Flares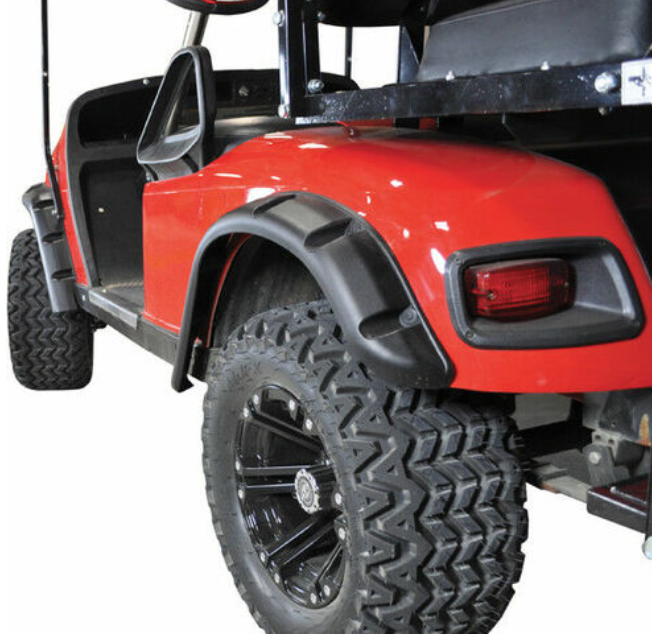 When you want to keep mud, water, rocks, and other debris off of the side of your golf cart and off of you and your passengers, fender flares are the accessory you need! Primarily used in conjunction with oversized tires, golf cart fender flares are an easy accessory to install and can add a rugged look to your golf cart!
Let's Wrap This Up
As you can see, these 9 cool golf cart accessories are an easy way to add your own style and personality to your golf cart. These are by no means all of the accessories available, but they are a great place to start! If you have any questions about the items listed in this article, feel free to reach out to us a Performance Golf Carts! Our staff is happy to help and make sure you can ride happy!